Related Image
Wooden Wall Clock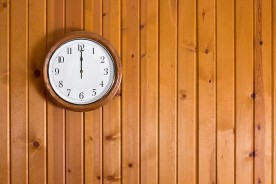 A simple clock, with black numbers and black hands, is pictured on a red wall. The clock is the only item pictured on the wall, and is photographed so the clock is slightly off-center and positioned to the right. The stark contrast between the clock and the wall helps the viewer to focus on the passing time.
---
Copyright 2011-2021 Zeducorp.
All rights reserved.

Clock on a Red Wall Picture
Wall Clock on a Brick Wall