Related Image
Light-blue Wall Clock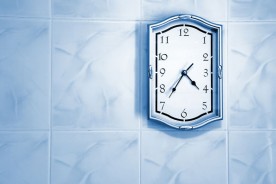 A silver wall clock with a white face and black hands is photographed on a bright green wall. The time reads 9:30. The clock is photographed slightly off center, so not all numbers are visible. A light reflects off the silver portion of the wall clock.
---
Copyright © Zeducorp.
All rights reserved.

Wall Clock Picture
Analog Clock on a White Wall