Related Image
Tower Clock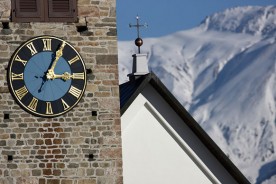 A wooden wall clock with a white face and black hands is photographed on a knotty pine board wall. The clock reads 12:00. The simple clock, placed on the rustic wall, evokes a feeling of understated, uncluttered simplicity. The basic white clock is the only item hanging on the expanse of the interior wall.
---
Copyright 2011-2021 Zeducorp.
All rights reserved.

Wood Clock Picture
Wood Pendulum Clock